Self-compassion – that is to be just as friendly to yourself when you make mistakes as you would toward others who face difficult times. And although it's the scientifically best way to emotional well-being, we're not that good at it. Self-compassion needs a lot of practice.
Self-compassion has become a new concept and a fast-growing self-help program in large parts of the world. The number of scientific papers since the research began in 2003 is increasing exponentially.
As a journalist, I got interested in why we have such problems accepting and loving ourselves around my 50th birthday. I worked at one of the biggest newspapers in Sweden (Svenska Dagbladet) and came across the self-compassion concept a few years later. In 2014, I wrote the first book in Swedish and now I have interviewed the world's pioneers and authorities in the field of self-compassion – you can see them in my pictures up here.  Would you like a short presentation of them all in just one blog post, please click here.
"Self-compassion is here to stay," Christopher Germer believes, knowing that it is associated with every significant measure of emotional health in mental health research. When examining 400 scientific papers 2015, psychology professor Mark Leary could show there is no other single factor that has such a strong connection to emotional well-being than self-acceptance. To be able to make friends with yourself, like having a kind and understanding attitude towards all your flaws and shortcomings, is thus something important and meaningful.
The Center for Mindful Self-compassion organizes 5-days intensive programs (Step 1) world-wide, as well as Teacher Training programs (Step 2). From 2016 teachers are trained not only in English, but in German, Spain, Chinese and Korean, and the 8-week program is available also as an on-line-course . In your own home country there might be even more varieties, like a week-end retreat or short introduction speeches.
Welcome to read my interviews with the pioneers! Click on the links below and see how each of them describes self-compassion and tells about their own, very personal road to get there.
Psychology professor Kristin Neff initiated the research and created together with psychologist Christopher Germer the program Mindful Self-compassion.
Licensed psycho-therapist Michelle Becker and psychology professor Steven Hickman , both mindfulness-instructors, founded the Center for Mindful Self-compassion with Neff and Germer, and became the first trained teachers together with psychologist and PhD Christine Braehler, the first European.
Psychologist and meditation teacher Tara Brach is followed by tens of thousands of people around the world. Her free-to-download insight meditations on radical acceptance also teach us to be friendlier with ourselves.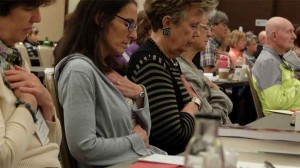 How much self-compassion do you have? Take the test!
Curious of the teachers' own websites? Click below.
Links:
Kristin Neff. In the website you can find research papers, the self-compassion scale and exercises in self-compassion. Her book Self-Compassion: The Proven Power of Being Kind to Yourself is a best-seller.
Christopher Germer. Here you find courses, workshops, papers and meditations, and link to the Centre for Mindful Self-compassion. He is author of the book The Mindful Path to Self-Compassion.
Tara Brachs website has free guided meditations, which get down-loaded by thousands of people round the world every week. Her most popular books are True Refuge and Radical Acceptance.
Welcome to browse the English versions on my website! My hope is to contribute to a more friendly attitude towards ourselves, where we put our hands on our hearts, say kind things to ourselves and learn to realize that we are not the only one in the world who is imperfect.